Senators Dick Durbin and Franken Introduce Adjunct Student Debt Relief Bill
Senate Minority Whip Dick Durbin (D-IL) and Senator Al Franken (D-MN) have introduced legislation that would help adjunct faculty access the Public Service Loan Forgiveness Program (PSLF). The Adjunct Faculty Loan Fairness Act of 2015 would make a tremendous impact on the lives of thousands of adjunct and contingent faculty, who now make up a majority of America's college instructors and more than half of whom work part time. This version of this bill was also introduced in the 113th Congress.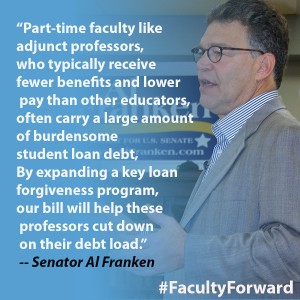 Adjunct faculty across the country are applauding Senators Durbin and Franken for this critical step toward recognizing the important service adjunct faculty provide.  Paige Warren who teaches at Loyola University Chicago said, "While I've been teaching for over a decade, I still owe over $56,000 in student loans. My crushing debt load does not allow me the time or peace of mind to serve students to the best of my abilities. I appreciate Sen. Durbin's continued action in Washington, DC to address the student debt crisis. The Adjunct Faculty Loan Fairness Act would free me to live up to my full potential as an educator."
Student debt has become a national issue and it's one that is critically important for part-time and non-tenure track faculty, as the average debt burden for borrowers with advanced degrees is now $57,000.
Congress created the PSLF program in 2007 to offer student loan forgiveness to people with careers in the public or nonprofit sectors. But as the program is currently structured, many adjunct faculty are not eligible to participate. The current law states that in order to be eligible for PSLF a person must work an average of 30 hours a week over the course of a year. This requirement prevents many adjunct faculty from participating since school administrators decide how many classes an instructor can teach.
Hamline University (MN) adjunct faculty member David Weiss said, "I want to thank Senator Franken for sponsoring the Adjunct Faculty Loan Fairness Act, which would make a huge difference in the lives of countless adjunct faculty in Minnesota and their families. The youngest of our five children headed off to college last year while I still carry tens of thousands of my own student loan debt. I'm more than qualified to teach other parents' college students, but I'm financially unable to help my own daughter pay for college. This bill would be a godsend to me and to hundreds of thousands of other adjunct faculty. It would dramatically increase my family's financial security. It would boost my ability to plan for retirement and our family's capacity to support our own local economy – because a good share of the extra money in our budget would go toward goods and services that right now we simply do without."
Over the past few months faculty from hundreds of schools have come together as part of a national movement of underpaid workers who have joined the Fight for 15 in a way that fits their circumstances — by asking for $15,000 in pay and benefits per course. Through Faculty Forward, adjunct, full-time faculty and allies everywhere are making sure their voices are heard on the job, in our communities and in Congress.
---
2 Replies to "Senators Dick Durbin and Franken Introduce Adjunct Student Debt Relief Bill"
Jeffery Downs

June 15, 2015 (3:35 pm)

For what the government spends on a war plane, they could alleviate so much student debt. And, I believe forgiveness should be earned; there should be criteria, not just a free ride. But, as someone who busted his 51 year old behind to finish and old BA and now an MA, with a 4.0, so I can teach, I think I have earned a little forgiveness. (And try $110K)

Martha van der Drift

July 3, 2015 (7:24 am)

Finally a person with power makes our voice known! This Act is about dignity and valorisation. Paying student loans incurred during my 15 years of higher education prevents me from contributing to the economy, planning for my future, taking care of my health and well-being. We live in the dark about contracts. We are frustrated and enraged by silence and lack of acknowledgment (answers to questions, invited to meetings – to name a few contributing factors). Our mental well-being is threatened while we allow ourselves to be exploited so that we can hope to maintain some sort of financial stability. In the midst of this, we aren't eligible for unemployment between a contract and another if the "new" one is dated befor your last salary and even if it is contingent! How can we be expected to pay off our loans in such conditions? Why does our country forgive credit card debt in the name of consumerism yet not forgive student loans in the name of education and dignity?
---