SEIU Contract Highlights: The Union Difference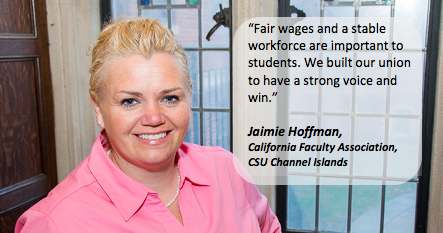 Since 2013, over 15,000 contingent faculty members from more than 50 colleges and universities have decided to stand together, to use our strength and voice in SEIU to win improvements that are helping raise standards on our campuses.  These wins, along with recent research, have shown that this nationwide movement can give significant advantages to university faculty.
Compensation
 Unionized contingent faculty often have a higher rate of pay, regular salary increases and pay protections on work done outside of the classroom.
Across the country, median pay per course was 25% higher for part-time faculty that had union representation.

Boston University part-time faculty received pay raises between 29 percent and 68 percent over the three-year life of their first contract.

SEIU full-time faculty at Mills College who have taught 40 or more courses will receive $65,000 in pay, which is an 8.3% increase from $60,000 for full-time faculty who has taught fewer than 40 courses.

Full-time faculty at Tufts University improved their compensation across-the-board, with guaranteed minimum salaries for all lecturers.
Full-time and part-time members of the California Faculty Association will receive at least a 10.5 percent raise within the next three academic years.
At Hamline University in St. Paul, Minn., SEIU adjunct faculty secured a raise for all part-time faculty – ranging from a 15 to 30 percent increase.
In a contract at Washington University in St. Louis, adjunct faculty will receive up to a 26 percent raise over the next four academic years. Individual faculty members will also receive $750 for classes that are suddenly canceled.
In their first union contract, all Tufts University part-time faculty now make at least $7,300 a course. The minimum for someone with more than 8 years of service will be $8,760.
At George Washington University, pay increased as much as 32 percent in one department when they ratified their first contract.
Tufts part-time lecturers have a contractual right to be paid for work outside of normal classroom duties (e.g., advising, mentoring and independent studies)
Georgetown part-time faculty are paid a course cancellation fee of $300 if a course is cancelled within 21 calendar days before classes begin for that course.
Job Security, Improved Benefits and Professional Development
 Unionized contingent faculty have an increased level of job security, better benefits and 90 percent of SEIU faculty contracts have established professional development funds.

All Tufts part-time lecturers have at least 1 year contracts, and half will have two and three year appointments by 2016. Tufts full-time lecturers won significant job security and a clear pathway to multiyear contracts. Those who have 2 years of consecutive service are appointed to a 2-year term. After 4 years of consecutive service they are appointed to a 3-year term once the University reappoints them, unless there is a performance problem.
Dominican University faculty won regular contracts with up to 3-year appointments.
An SEIU part-time faculty member at George Washington University does not need to re-apply in order to be recommended for re-appointment. If an SEIU adjunct at American University is replaced by an adjunct with "greater professional qualifications" the replaced adjunct will receive 75 percent of the fee they would have received to teach the course.
Eligible SEIU part-time faculty united in The Congress of Connecticut Community Colleges  who work in the Connecticut Community College System are assigned at least one course per semester based on seniority and qualifications once they have taught 24 credits in the system.
California Faculty Association's contract for the California State University system includes a "preference for work" based on seniority and one-year and three-year contracts reserved for incumbents.
Tufts part-time lecturers get guaranteed notice and fair consideration for full-time positions including a guaranteed interview. If the part-time faculty member isn't offered the position, the instructor can find out why in a meeting with the dean or head of the department.
At Antioch University, full-time and part-time faculty protected their health care insurance, won monthly transportation benefits, and defined workload expectations within their contract to keep faculty from becoming overworked.
Many faculty contracts include a professional development fund for faculty through which they may apply for reimbursement for professional development opportunities related to teaching. At Georgetown the rate is up to $600 per person per academic year.
Full-time lecturers at Tufts contract establishes professional development funds including paid training and scholarship leave for senior lecturer.
Dominican University establish a $40,000 professional development fund for part-time faculty.

Tufts full-time lecturers now have a $15,000 professional development fund and each faculty member is eligible to access $650 each year.
Respect
SEIU contingent faculty often have an expanded and more transparent evaluations process, a clear voice in their working conditions and rights to intellectual property.

The evaluation process for many SEIU faculty must take into account numerous metrics beyond just student evaluations- such as classroom observation; and any materials presented by an employee regarding the employee's professional, artistic, or scholarly credentials.
Full-time contingent faculty at Tufts now have greater transparency in the evaluation and promotion process through their union contract.
Core full-time faculty at Antioch University – Seattle receive annual and comprehensive evaluations and may nominate other faculty members to serve on their evaluation committee.
SEIU adjuncts at American University are contractually guaranteed the same rights and obligations of academic freedom as do all faculty at American University.
SEIU full-time and affiliated faculty at Antioch University-Seattle must be consulted before any changes to their workload are made.
SEIU contingent faculty often have "just cause" protections. This means that the employer cannot arbitrarily dismiss or discipline an employee/employees without due process.
SEIU adjuncts at the Community College of New Hampshire System have contractually guaranteed intellectual property rights of all scholarly works and intellectual property.
SEIU full-time faculty at Mills College are eligible for tuition remission and exchange and may apply for a Faculty Development Grant to support their professional development and Course Development Grants.