By Mitch Tropin, Treasurer, SEIU Local 500
Faculty Forward Contributor
Labor Day is coming and I want to start a new tradition: commemorating academic labor organizers—both organizers who work for SEIU or one of its locals as well as adjunct and full-time faculty who volunteered to fight on the front lines at their colleges.
This new tradition is inspired by my brothers and sisters at SEIU Local 500. I joined the Local's Executive Board in 2015 after working on the campaign to organize adjunct faculty at Trinity University Washington, a small all-women's college.
During local meetings and events, I learned how many at the local had worked long and hard in prior years to establish faculty unions in the Washington D.C. area. I was moved by their toughness and determination against long odds. I also found an even greater appreciation—the importance of their contributions to the lives of part-time faculty and to Organized Labor.
This included Anne McLeer, whose vision and efforts spearheaded the fight to get the first adjunct faculty union at George Washington University. Initially working with the United Autoworkers, Anne persevered when the UAW gave up on the fight. But she fought on, getting help from Local 500. Anne and the GWU adjuncts won, sparking a fire for organizing part-time faculty that would grow and grow. Anne is Local 500's Director of Higher Education and Strategic Research.
This also included Travis Simon. Though not the lead organizer on the campaign, he contributed so much to organize part-time adjuncts at American University, another major institution in Washington D.C. Travis' work was critical because there were doubters who did not believe the victory at GWU could be duplicated. But Travis and others at Local 500 proved them wrong. Travis is Local 500's Coordinator of Member Political Engagement.
I was inspired as well by Victoria Baldassano, an adjunct at Montgomery College. North of Washington D.C., MC is one of Maryland's largest community colleges. Victoria saw that the full-time faculty and college staff had unions, but not the adjuncts. More importantly, she knew the part-timers needed the protection that a union provides. She looked to several unions for help, but no one would agree to support her until Local 500 stepped up. Victoria's hard and persistent work resulted in MC becoming the first and only community college in Maryland with a part-time faculty union.
In addition, Jamal Pender, director of Local 500's organizing, has been an inspiration to me with his organizing work in Baltimore. Jamal's hard work resulted in the first part-time faculty union in Baltimore at Maryland Institute College of Act (MICA). He has followed up on that victory with a faculty union at nearby McDaniel College.
Still another source of inspiration is Local 500 organizer, Justin Yampolsky. I worked with Justin on the Trinity campaign and was awed by his tireless work. When the National Labor Relations Board certified our part-time union at Trinity, I felt honored I could share the moment with him.
The people above are just a few of the many who contributed to campaigns in Washington D.C. and Baltimore. I bet that the readers of this article know people at their locals and colleges who have contributed to the establishment of faculty unions or are in the process of organizing the faculty at their university.
At first, I thought of proposing that we honor my colleagues with battle ribbons that they could wear with pride. Then I got inspired by an unlikely source: William Shakespeare.
In Henry V, the English king gives a speech the morning of the big battle. Henry reminds the troops who have stayed to fight that they will go into combat on a feast day—The Feast of St. Crispin. Henry tells his men that because of their bravery, every year on St. Crispin feast days, people will remember their names and how they fought. People also will call out their names and every proud man will stand a little taller.
I want to do something similar and honor those who fought for academic labor. What better holiday than Labor Day to celebrate our victories and hard fought battles. The words of Henry say it best. Just substitute organizing college faculty for fighting the French.
He that outlives this day, and comes safe home,
Will stand a tip-toe when this day is nam'd,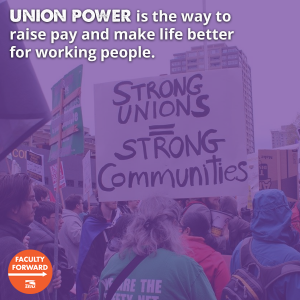 And rouse him at the name of Crispian.
He that shall see this day, and live old age,
Will yearly on the vigil feast his neighbours,
And say "To-morrow is Saint Crispian."
Then will he strip his sleeve and show his scars,
And say "These wounds I had on Crispin's day."
Old men forget; yet all shall be forgot,
But he'll remember, with advantages,
What feats he did that day. Then shall our names,
Familiar in his mouth as household words—
Be in their flowing cups freshly rememb'red.
This story shall the good man teach his son;
And Crispian shall ne'er go by,
From this day to the ending of the world,
But we in it shall be rememberèd-
We few, we happy few, we band of brothers;
For he to-day that sheds his blood with me
Shall be my brother; be he ne'er so vile. 
My request is simple: If you are involved with academic labor, please take time this Labor Day to recognize those who helped organize your union or who are fighting right now to get a union started. The work of organizers has helped hundreds of thousands of those who love teaching get better working conditions, better job security and better pay. We owe our own Band of Brothers so much. A little recognition on Labor Day is well deserved.
Mitch is vice president of the Montgomery College Part-Time Faculty Union.