Day 3:
The following entry was written by Duke Graduate School Union member, Claire Ravenscroft.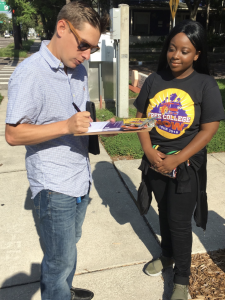 On our third day, the bus headed to St. Petersburg, where we attended a town hall with Florida Congressman Charlie Crist. Jared, an adjunct at multiple Florida colleges, asked Representative Crist what he planned on doing about the wage disparity between college instructors and college administrators — for one of Jared's employers, a disparity between an adjunct salary cap of $18,000 and and the university president's salary of over $800,000. Isaiah, a leader with the Fight for $15, spoke about the housing crisis and the urgent need to raise the state minimum wage from $8.25, which is unlivable for workers and workers' families. We then spent the afternoon in St. Pete knocking on doors with Win Justice and campaigning for Amendment 4 on the Florida ballot this fall. Amendment 4 seeks to reinstate voting rights for over $1.5 million Floridians whose voices are currently shut out by an oppressive, racist system of mass incarceration. DGSU and other #FreeCollegeNow workers talked to folks who are working too long for not enough money, supporting their families and local communities through volunteer work, and looking to get back on their feet despite continued crises in housing, pay, police violence and hurricane seasons that get worse every year because of climate change. Their stories strengthened our resolve that the time is now to make sure we all have the rights, security and dignity we deserve.
The following entry was written by retired public school teacher and Saint Louis Community College adjunct professor, Jarretha Whitaker.
The third day of the Free Tuition Florida bus tour began at the Palladium Theater in St. Petersburg. Tour participants eagerly awaited the arrival of Congressman Charlie Crist. Again local television cameras captured us in front of the theater as we rousingly chanted and uplifted our voices in unison asking to free college and university students of Florida, from the heavy burden of tuition debt. During the town-hall, Congressman Crist answered questions of his constituents and those asked by bus tour participants. Questions ranged from the now "non-support" of Israel, water rights of Floridians, to the possibility of free tuition for college, beginning with two-year colleges. Throughout the meeting Crist stressed the importance of voters coming out to vote in the upcoming midterm elections.
Our day continued with meeting and joining community workers at the Childs Neighborhood Park. We were divided into pairs and were given strategic neighborhood lists of voters. Adjunct faculty, Faculty Forward members and Fight for Fifteen workers used these lists to contact registered voters by knocking on doors and phone bank canvassing. We asked voters what community issues were they most concerned about, and most importantly what issues would bring them out to vote in the upcoming midterm election. The issues noted ranged from childcare, the current political climate, immigration and many mentioned "Amendment Four." This amendment would reinstate voting rights for non-violent felons in the state of Florida. Many voters expressed their concern for ex-offenders who have paid their debt to society and that it is now time to have their full voting rights restored. Many bus tour members were excited to have direct contact with community residents and voters.