Day 5:
The following entry was written by Marquette University History Ph.D. Student, Steven A. Vickers, Jr.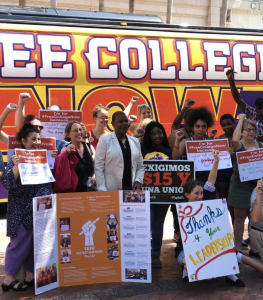 It is said that rebellions are built on hope. This hope is seen in the eyes of a fast-food worker as he picks up shifts at a second or third job, hoping to provide his children with opportunities he never dared to dream of. It shines in the face of the adjunct professor when she inspires her students to achieve their own dreams, despite having to sleep in her car after earning less than half what a full-time professor would be paid to do the same work. It is in this shared hope that people from around the country converged in Florida to join the "Free College Now" bus tour.
They have each chosen to be leaders in the rebellion against inequality and injustice. They have decided to fight against those corporations and individuals earning record profits while forcing laborers into poverty. I am honored to be among them.
I am a first-generation college student. My mom set me up for success by working multiple jobs my entire childhood, but a bad guidance counselor at my high school convinced me that I would never succeed in college. So, I didn't try. That was until I was twenty-seven years old and found myself without a job and without a home. In the front seat of my car, packed to the brim with all that I owned, I realized something that changed my life forever: I am worthy of my dreams and deserve the chance to reach them. With borrowed money, I applied to a local community college and began my journey to earning an education. I'm now thirty-three, have both a Bachelor's and a Master's Degree, earned a prestigious international scholarship to teach abroad, and have
begun studies to get my Ph.D. I also have more than $80,000 in student loans. Without them, I never would have reached the heights that I have. Soon, I will begin paying them back, thankful for the opportunity they provided me but also burdened for much of the rest of my life.
I fight for free education not because I want a magic wand to take away this burden but because I should never have had to bear it to begin with. An education is a fundamental right of all people by virtue of their birth. Forcing Americans, particularly those of low-income and people of color, to take on such debt for their education perpetuates a system of inequality and oppression that ensures only those that can pay for their education get to reach the top. We all deserve a chance to accomplish our greatest dreams, and our rebellion against inequality and injustice is built upon the hope of achieving it.