Day 6:
The following entry was written by community supporter and attorney, Marty Levine.
Why I am on Free College Now Bus Tour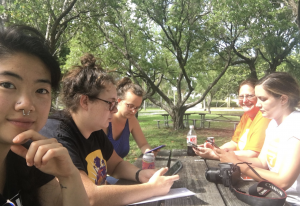 I went to Brooklyn College, which is part of the City University of New York. College was free. My father was an immigrant from Poland, a factory worker, my mother was a housewife. We lived in City housing, not a good neighborhood at all. My parents could not afford any college.
I received my B.A. in Political Science in 1969, a momentous year as that was the year I graduated from College, man walked on the moon, I went to Woodstock, the NY Mets won the World Series, I got married and my wife relocated to Miami, Florida.
I got a job as an insurance adjuster in Miami. In 1972 I was admitted to the University of Miami Law School as a night student. I worked during the day. My wife and I then lived in the married student dormitory with my two kids . . . and my mother! I received my J.D degree and graduated in 1975. I passed the Florida Bar exam and was sworn in in October, 1975.
I worked at two different law firms and opened my own office in 1982, and have been a sole practitioner since then with my wife as my legal secretary.
If I did not go to Brooklyn College FREE, I would not have gone to law school.
I have no horse in this race. I am on the bus tour to advocate for free public college and for student debt relief. I received free college and have no student debt and so should everyone. I have repaid the value of my free college and much more in taxes I paid as a result of my greater income. States and the federal government should invest in people. Not only will the US get a good return on investment, but the economy will be positively affected, as people will have more disposable income as the college grads will not have student debt
Thanks for your investment in me. I will certainly be active in our issues.
The following entry was written by Ralph Schusler.
The Journey Continues: From Free Tuition to Voting Reform to a Dramatic Beach Rescue
After a two-hour bus ride from Gainesville, the two dozen remaining SEIU-sponsored crusaders, along with a handful of new arrivals, gathered in Jacksonville's Hemming Park on Monday morning to hear Florida Senate Minority Leader Audrey Gibson discuss her successful legislative bid to finance free tuition for the area's neediest college students.
Gibson spoke against a backdrop of the colorful "Free College Now" bus heading toward the future and a bronze monument of a Confederate soldier commemorating the local past from his perch atop a 60-foot-high granite pillar rising from the center of the park. Gibson and fellow Afro-American legislator Tracie Davis, who sponsored the bill in the House, last year managed to steer unused scholarship funding and private donations to underwrite tuition, fees, books and transportation costs at the Florida State College at Jacksonville for some 1,000 first- time students from neighboring Duvall and Nassau counties.
Marty Levine gave an impassioned testimonial regarding the tuition-free undergraduate education he had received at Brooklyn College fifty years ago and paid back several times over through taxes on the salary he had earned as a successful family-law attorney.
"We don't need to reinvent the wheel," Levine said in reference to a social investment he and his fellow travelers are promoting across the state. The group spread pledge cards throughout the park in an effort to glean support for that and other causes, such as forming union shops for adjunct professors and achieving a $15 minimum wage.
After lunch at a park on the banks of the St. John's River, group members, again, beheld the embodiment of one of their main causes in the person of Devon Coleman of the Florida Rights Restoration Coalition, who recounted his personal story in the course of mustering support for the November ballot's Amendment 4, meant to incorporate former felons back into society by returning them the right to vote. Of the country's 6.8 million disenfranchised former felons, 1.68 million – nearly 25 percent – live in Florida, Coleman said. The number is three times that of a mere 20 years ago.
A third extraordinary event capped off the day as the riders headed to Jacksonville Beach, where nearly two dozen ventured into the waters wearing bright orange caps and gowns. Holding two-foot-high black letters that, together, read "I AM DROWNING IN STUDENT DEBT," the group chanted "Water's rising, we're getting wet; 80 billion in Florida, we're drowning in debt" and "No
hikes, no fees; education should be free." The reference was to the $80 billion Floridians currently own on student loans. Wearing a life-vest that read "DEBT RELIEF," Belgium-born lifeguard Nogi Olaigbe, assisted by a handful of beachgoers, threw the foundering figures a lifeline and managed to haul them out onto the shore.
A phone-banking session, held nearby, followed. After a bus ride back to town and dinner at the hotel, the group held a Skype conversation with authors of a study on college education's contributions to society. Marty Levine had another chance to note that his free stint at Brooklyn College had resulted in his paying far more in taxes than the cost of his free college tuition.