Statement: SEIU Higher Education Workers Support University of California strikers!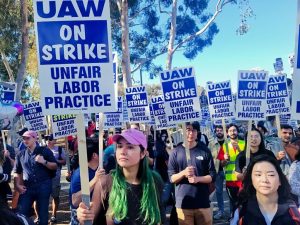 SEIU higher education workers cheer on and support the 48,000 University of California academic workers — who conduct much of the teaching, grading and research at the nation's premier public university system — who began their strike November 14 at all 10 UC campuses. We support their demand for significantly higher wages to help cover sky-high housing costs, improved child care subsidies, enhanced health coverage and other benefits. These three UAW locals are showing what bold, militant action for fair and just university employment looks like. 
We know that colleges and universities must offer good, stable union jobs that provide living wages and career paths for instructional, non-instructional, and student workers to thrive, not merely survive. All higher education workers must have the unimpeded right to form and join unions.
We stand with you! Please support the California system strikers with a donation to supplement their strike fund: https://givebutter.com/uc-uaw.