DAY 2:
The following entry was written by Fordham University English adjunct professor, Alessandro King.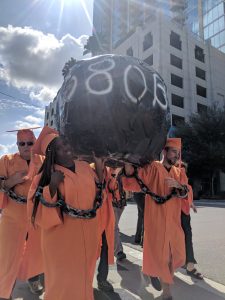 The SEIU Faculty Forward #FreeCollegeNow Bus tour had a high-powered kickoff to its travels on Friday. A morning training session with Beautiful Trouble exposed us to a wide range of creative possibilities for empowered political actions. We as a group left feeling highly energized about our potential to connect with the public, our leadership and each other.
We channeled this energy into a successful march at the Tampa Riverwalk in which we embodied crushing student debt with a massive prop ball and chain and propulsive chanting. The protest was captured by local television. A highly productive International Plaza Mall canvassing followed in which we nailed down 100 voter commitments to our core values, and a deeply moving dinner rally at Trinity Church left us inspired to continue the fight on Saturday.